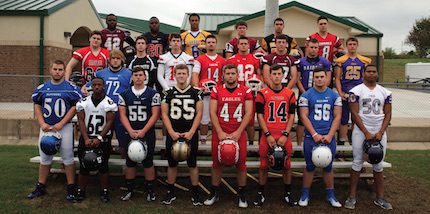 08 Aug 2015

501 LIFE announces 501 Football Team 2015

Football is back, and 501 LIFE is honored to announce the 2015 edition of the 501 Football Team.

The team features 27 student-athletes (the largest team yet) — the best the 501 has to offer both on and off the field. Every county in the 501 is represented on this year's team.

2015 team members include: Jacob Acklin (Maumelle), Zack Baxley (Bauxite), Tracy Blakley (Morrilton), Maurice Bradford (Hot Springs Lakeside), Carter Bramlett (Conway Christian), Gunnar Burks (Bryant), Jake Cantey (Rose Bud), Miles Clements (Harding Academy), Logan Cope (Greenbrier), Trevor Dawson (Clinton), Kolton Eads (Cabot), Hayden Evans (Bald Knob), Dalton Everett (Perryville), Kavion Jamal Grider (Bigelow), Xavier Iverson (England), Jon Johnson (Benton Harmony Grove), Aaron Mason (Mayflower), Jamari McCollum (Malvern), Zach Mills (Conway), Andrew Moore (Riverview), Andrew Neaville (Searcy), Abisai Quiroz (Quitman), Parker Ross (Fountain Lake), Brett Shelton (Cutter Morning Star), Trip Smith (Beebe), Harrison Wade (Magnet Cove) and Dylan Wimberly (Vilonia).


Players were nominated by their respective coaches and selected by the 501 LIFE staff. Nominations were weighted equally between on- and off-the-field attributes.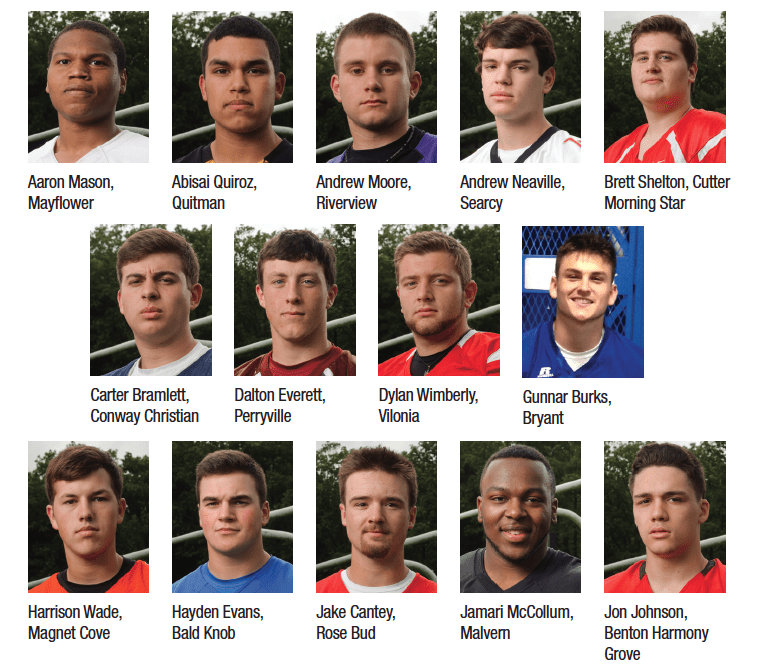 "I'm so thankful that the coaches in the area continue to see the value in this team and take the time to honor one of their student-athletes with a nomination," said Levi Gilbert, associate editor. "It's an honor for us every year to highlight the good and positive stories going on in the football programs in the 501."

The team recently met at Conway Christian School's field for a photo shoot and individual interviews. In addition to being recognized in this year's edition of 501 LIFE's football preview issue, 501 Football 2015, each player will be featured individually throughout the fall online at 501lifemag.com and in 501 Sports Extra, 501's sports e-newsletter. (To sign up, visit 501lifemag.com or email [email protected].)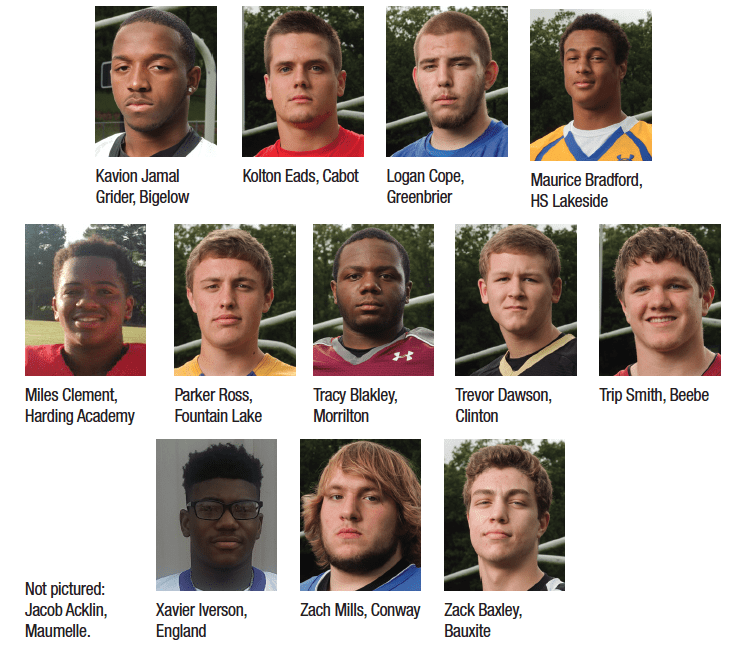 Player features will begin publishing weekly online and in 501 Sports Extra starting a few weeks before the kickoff of the 2015 high school football season.

"Football in the 501 was at a fever pitch last season, and this season could be even better," Gilbert said. "Conway had an amazing year. Beebe, Maumelle and Greenbrier were all major players last year in the 5A. Clinton and Malvern made waves in the 4A playoffs. Mayflower in 3A and Conway Christian in 2A had arguably their best years in program history. And all of these teams are represented on our 501 Football Team this year. 501 football fans are in for a big season."