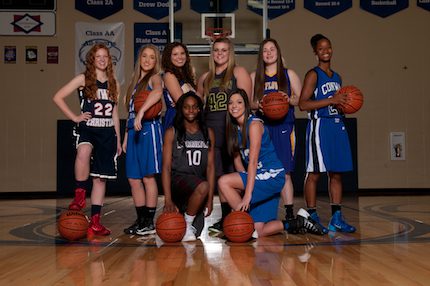 14 Dec

501 LIFE announces 501 Basketball Team

It's been three years in the making, and it's finally here.


501 LIFE is excited to announce the inaugural 501 Basketball Team.

The team features 17 of the best student-athletes the 501 has to offer — both on and off the court. The team is made up of male and female athletes.


2014 team members include: Raegan Bartlett (Mayflower), Jordan Danberry (Conway), Katie Jo Henley (Conway Christian), Anna Mayor (St. Joseph), Audrey Moran (Vilonia), Heather Prowse (Mt. Vernon-Enola), Autumn Russell (Greenbrier), Shelby Williams (Wonderview), Danielle Wright (Morrilton), John Beck (Wonderview), Drew Bottoms (Sacred Heart), Bradley Chamblis (Mayflower), Sean Criswell (Conway), Drake Cooper (St. Joseph), Caleb Dather (Conway Christian), Logan Horvath (Greenbrier) and Alex McKey (Morrilton).
"When we first introduced the 501 Football Team three years ago, one of the first questions we received from readers was, 'When will you guys do a basketball team?' It was a valid question," said Levi Gilbert, associate editor. "The timing is right, and we are happy to share these 17 student-athletes with our readers. These players were nominated for both the contributions they make on the court as well as off of it."

In its initial year, nominations were sought from coaches in Conway and Faulkner counties. The team members were selected by the 501 LIFE staff. Nominations were weighted equally between on- and off-the-field attributes.

The team recently met at Conway Christian's gym for a photo shoot and individual interviews.

"When you meet these young women and young men in person, it becomes really easy to see why their coaches nominated them," Gilbert said. "We can't wait to share their stories with our readers."

In addition to being featured in 501 LIFE's January issue, each player will be highlighted individually throughout the winter online at 501lifemag.com and in 501 Sports Extra, 501's sports e-newsletter.

"We'd like to thank all the coaches who took the time to recognize one of their outstanding student-athletes by submitting a nomination," Gilbert said. "We couldn't do our jobs without their help and support."

Player features will begin publishing weekly online and in 501 Sports Extra starting in January.