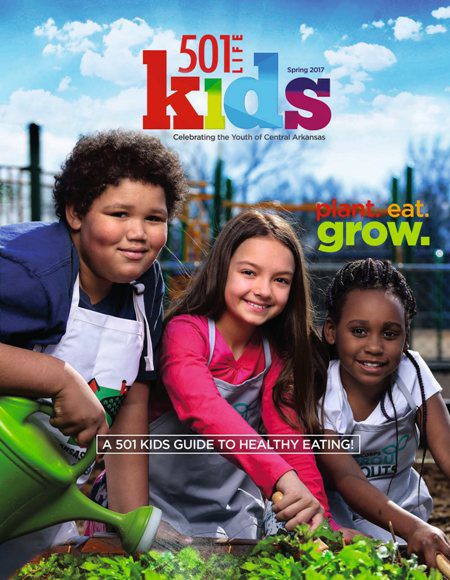 02 Mar 2017

501 Kids publishes spring issue

Posted at 12:48 PMh

in

News

The latest edition of 501 Kids – with the theme "Gardening/Eating Healthy" – is hitting the streets.


"The 501 is welcoming spring with its many opportunities to enjoy the beauty of our great outdoors with family and friends," said editor/co-publisher Sonja J. Keith. "Gardening and eating healthy – the theme for this month's issue – are a natural fit for this time of year."


In this edition, guest writer Sarah Lane presents ideas and suggestions on how families can create their own garden space. "Sarah, a FoodCorps worker at Carolyn Lewis Elementary School in Conway, has a passion for gardening and teaching young people about the importance of good nutrition. We've seen her in action with classes and the afterschool Sprout Scouts program and are impressed with the bounty that her program is producing, both in the school garden and in the classroom."


In addition, 501 LIFE contributors Katelin Whiddon and Brittany Gilbert have some suggestions on making smart dietary choices and how to start healthy habits for kids.


"This edition also features some great 'Loving 501 Kids' and 'Loving LIFE' photos from recent Valentine's Day parties held at local schools. Some of the photos include students with their homemade Valentine's Day boxes – what a treat to see the creativity these young people have!"


501 Kids welcomes "Loving 501 Kids" photos showing young people involved in sports teams, school groups, birthday parties and other events holding a copy of the kids magazine. Send photos along with caption information to [email protected] or 701 Chestnut St., Conway, AR 72032.


501 Kids is distributed through schools, daycare centers and businesses throughout Faulkner County. Copies are available at the 501 LIFE office at 701 Chestnut St. in Conway and at the following locations of advertising partners: Central Arkansas Pediatrics, Conway Regional Medical Center, First Security Bank, First Service Bank, Shoe Choo Train and St. Joseph School.