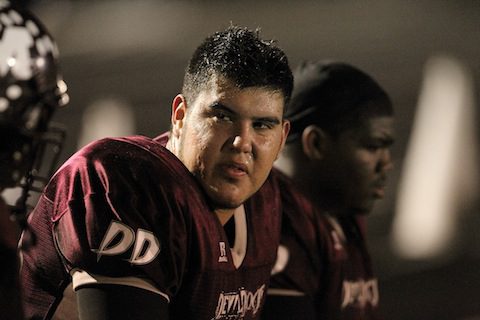 12 Feb 2013

501 Football Team honoree signs with UCA

by Levi Gilbert


Morrilton Devil Dog and 501 Football Team honoree Gilberto Garcia signed a letter of intent last week to play Division I football right here in the 501.
The senior offensive lineman will be making the short drive from Morrilton to Conway to join the offensive line at the University of Central Arkansas.

"Staying here in the 501 is amazing," Garcia said. "It couldn't have worked out any better for me. I'll still be able to see my family and play for a Division I program."

Garcia (6-3, 285) is a two-time 5A West Offensive Lineman of the Year, two-time 5A All-State selection and a member of last year's 501 Football Team. Garcia is on the honor roll at Morrilton High School and attended Boys State. Garcia joins a Bears squad that is riding high off a 9-3 season, a No. 10 finish in national polls and two consecutive DI FCS playoff appearances.

"Playing at the DI level has always been a dream of mine growing up, and to be able to make that a reality is a blessing," Garcia said. "It's a great feeling knowing that we'll be able to compete for a national championship throughout my career there — it's just truly a blessing. I'm ready to get to work and to be a part of it."

Garcia helps the Bears meet an immediate need on the offensive line.
"He played offensive tackle in high school; we plan to move him to center," said UCA Coach Clint Conque. "He's very explosive, very strong. We think he's going to make a very good center. He has very good feet, and he's only going to get better as his career progresses."

After fielding offers from Division II schools in Arkansas, as well as from Memphis, Louisiana Tech and New Mexico, Garcia ultimately chose UCA as his best fit.

"I liked everything about UCA from the start," Garcia said. "The coaching staff, the family feel to the team, the football facilities, the academic side of it and it being close to home just made it that much greater. UCA first began showing interest after I attended their camp the summer of my junior year. They kept up with me throughout the season, and they offered after I attended their camp again my senior year."

Garcia said he hasn't decided on a major yet, but he is leaning toward either an accounting/finance degree or pursuing a career in coaching. Either way, he's excited to be close to home. And he's not the only one.

"My family all love it," Garcia said. "Everyone in our community is excited to make the short trip to Conway to watch me play on Saturday nights."