25 Aug 2021

501 Football Team announced for 2021

We are thrilled to announce the 11th Annual 501 LIFE Football Team! These players were nominated by their respective coaches and selected by members of 501 LIFE for this honor for both their on- and off-the-field attributes.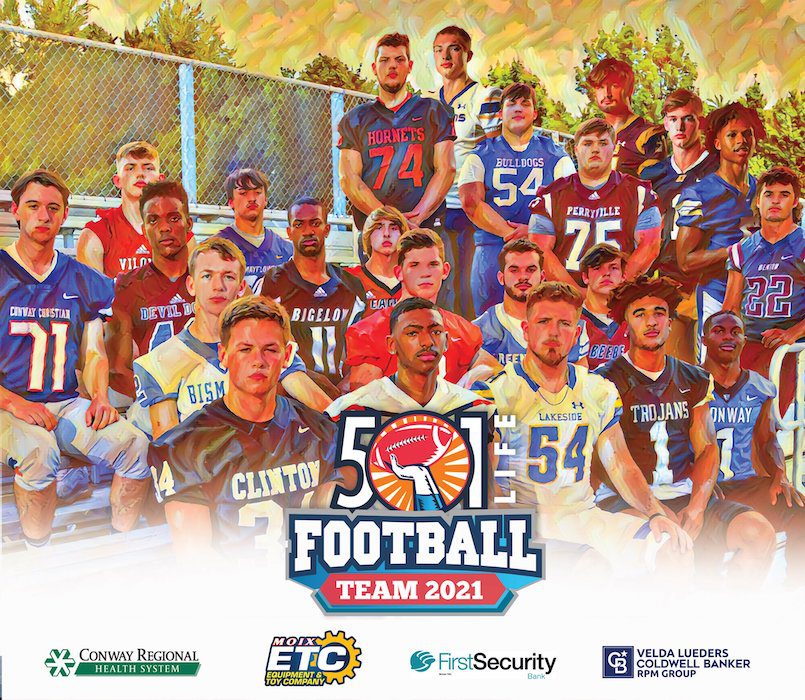 Congratulations to our 2021 team: Andrew Miller (Harding Academy), Braden Efird (Bismarck), Braylon Watson (Malvern), Cain Simmons (Benton), Caleb Stroud (Maumelle), Colbe McBride (Bald Knob), Colton Lowe (Poyen), Ethan Cash (Vilonia), Gabe Morris (Mayflower), Garrett Farnam (Perryville), Jacob Hutto (Clinton), Jeremiah Canady (Morrilton), Jonathan Harrison (Cutter Morning Star), Keenan Hobbs (Bigelow), Logan Stephens (Beebe), Manny Smith (Conway), Nick Huett (Greenbrier), Payton Lentz (Conway Christian), Pierce Smalley (Hot Springs), Steven Cummins (Hot Springs Lakeside), Tyler Williams (Central Arkansas Christian), William Litton (Quitman) and Zach Roberts (Lake Hamilton).
The 501 Football Magazine will be distributed across Central Arkansas in the coming days. This year's Team Sponsors are: Conway Regional Health System, First Security Bank, Moix Equipment & Toy Company and Velda Lueders Coldwell Banker RPM Group.