03 Sep 2023

501 Football Team 2023: Maddox Moore – Harmony Grove

Harmony Grove enjoyed its best season in program history last year, notching a nine-game winning streak, taking the Class 4-4A conference title and picking up a convincing postseason victory.

Motivated to repeat history as Class 4A contenders, the Cardinals take flight this fall in search of new heights.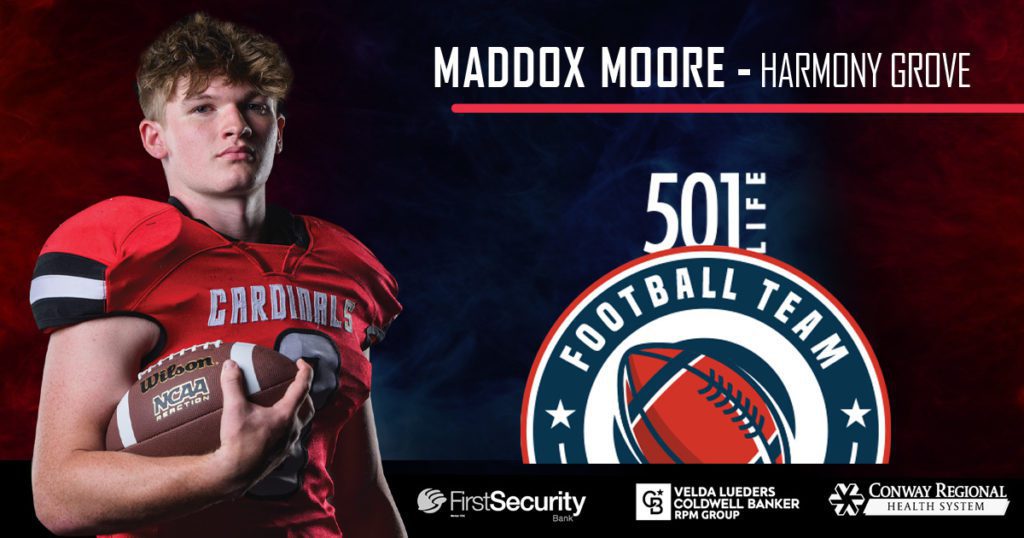 "My goal this season is to simply be better than I was last year," senior fullback and linebacker Maddox Moore said. "By putting in the work every day, we believe that we can win the conference championship again."
Despite missing the Cardinals' first four games with an MCL sprain, Moore returned from injury as a young man on a mission, earning All-Conference honors last fall.
"I want to be remembered as a leader who never gave up," Moore said. "I believe in being coachable and always putting in 110-percent effort."
Moore's influence on the field has earned the respect of his coaches, teammates and classmates.
"Maddox is a leader on and off the field for our program," Harmony Grove Head Coach Mike Guthrie said. "His leadership, perseverance, determination and work ethic make him a great contributor to our team." Off the field, Moore boasts a 3.95 GPA with honors classes and can often be seen lending a helping hand to his peers.
"Maddox gets along with everyone," Guthrie said. "When he's not helping tutor other students, he is working to grow our little league and peewee football programs. He is a great example of a student-athlete for our program."