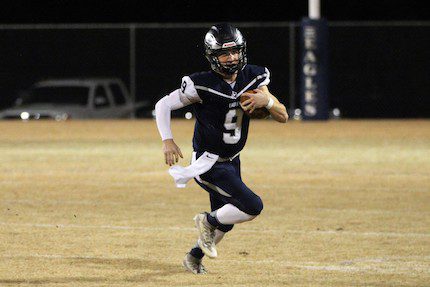 21 Nov 2017

501 Football playoffs Week 3 preview

The second week of the playoffs included several gut-wrenching close games, and the 501 was cut down from 18 teams to 10.


This week marks the semifinals for the top three classifications and the quarterfinals for the bottom three.


7A


Bryant trailed Fayetteville at home 20-7 into the fourth quarter, but the Hornets stormed back with two late touchdowns to stun the Bulldogs, 21-20. Bryant (10-1) travels to Bentonville (9-2), the top seed out of the 7A West.


On the other side of the bracket, Conway travels to North Little Rock for a matchup between two 7A Central teams. North Little Rock (11-0) took care of Ft. Smith Northside at home last week, 34-0.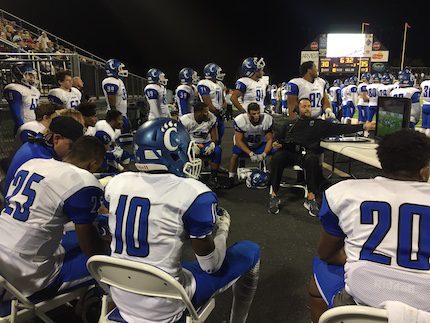 Conway (9-3) heads into the semifinals after a dynamic performance on the road at Bentonville West, picking up the road win 48-40. The Wampus Cats went down 14-0 quickly, and trailed at the end of the first quarter, 17-7. Coach Clint Ashcraft rallied the Wampus Cats to keep their heads after the early deficit.

"I told them to just keep playing," Ashcraft said. "It's a long game, and it is rarely decided in the first two minutes. We just needed to settle down and keep playing hard."

The Wampus Cats exploded for 28 points in the second quarter, including two rushing touchdowns, one scoop-and-score fumble return for a touchdown and a 33-yard strike from senior Andrew Hreha to junior Nick Richmond.

"We felt like we wore them down on the line of scrimmage as the game went on," Ashcraft said. "Our offensive line kept playing hard, knowing that our running backs would find the crease if they opened a hole. The passing game and running game go hand in hand. If they put an extra defender in the box to stop the run, that puts receivers in better situations. If they take a defender out of the box to help in coverage, that makes it somewhat easier to run the ball.

"Our offensive staff and players do a great job of recognizing what we are getting and checking us into the best play. Our quarterbacks work really hard during the week with their coaches on knowing the best answer against the look we are getting from the defense. Our defense is undersized, but they play extremely hard and run to the ball. It's all about attitude and effort."

The Wampus Cats outgained Bentonville West, 474-369. Senior Michael George carried the ball 40 times for 274 yards and three touchdowns. Hreha finished 12-of-23 passing for 144 yards and one touchdown. Richmond hauled in eight reception for 113 yards and a score. Seniors Matt Lloyd and Zach Freedle both finished with double-digit tackles (11 and 10, respectively). Freedle gave Bentonville West problems, finishing with four sacks.

"The Wampus Cats are playing some of their best football right now," said Jeff Matthews, play-by-play announcer for Conway Corporation's Channel 5 Sports. "They bounced back from their worst quarter of the season — the fourth quarter against Bryant in Week 10 — and have picked right back up to where they were."

North Little Rock defeated Conway back in Week 5, 24-14.

"North Little Rock is on an unbelievable run," Matthews said. "After losing the first four games under Jamie Mitchell in 2015, they have won 30 of their last 32 games — with the only losses coming in the state semifinals two years ago to Bentonville and last year in the state finals to Fayetteville.

"We played them tough earlier this year. They executed a fake punt that kept a drive alive that ended in a touchdown. Our defense held them to three points in the second half. This has the makings of a great game, and I'm thrilled that we will be able to broadcast it live for Wampus Cat fans who may not be able to make it on Black Friday."

In Week 5, George rushed for 187 yards and one score, but overall, the Wampus Cats struggled to move the ball in the red zone. With another shot at North Little Rock, the Wampus Cats are looking to create a different outcome.

"We just need to keep our composure and execute in all phases of the game," Ashcraft said. "I think the first time we played them we got up tight with it being a big game. We just need to relax, play as hard as we can and have fun."

Conway Corp will broadcast the game live starting at 6:50 p.m. Friday on Channel 5 and HD 585, and online at conwaycorp.com/wc2go.

6A

Searcy (10-2) knocked off El Dorado, 38-21, on the road last week in the 6A quarterfinals. Alonzo Trip finished with 199 receiving yards and one touchdown. Senior Mason Schucker, a 501 Football Team member, passed for 430 yards and four scores. The defensive secondary forced three turnovers (two interceptions and one fumble).

"The biggest factor that led to us winning against El Dorado was our defense creating turnovers," Searcy Coach Mark Kelley said. "They created two really big turnovers that were in the red zone that kept El Dorado from scoring and getting momentum."

Schucker echoed Kelley's praise of the defense.

"One of the El Dorado players broke free, and D'Markus Neil chased him down to strip the ball on the 1-yard-line to give the ball back to the offense. Plays like that are the reason we are headed into the semifinals this week."

Next up, the Lions head to Pine Bluff.

"We have had some penalties in the first couple of playoff games that we have not had all year," Kelley said. "We must adjust to the way the officials are calling games in the playoffs. We have to take what the defense gives us and protect the football. Defensively, we will have to stop their running game and hopefully make them throw the ball where we could possibly create some turnovers.

"It means a lot [to be this deep in the playoffs]. I know we will look back and be very excited for what we accomplished, but we are mainly very excited about having another chance to play this year and compete. This team genuinely enjoys being around each other each week during practice and games, and we do not want our journey to end."

3A

Clinton (12-0) continues its march to a championship after holding off Haskell Harmony Grove in an offensive shootout, 48-42. Sophomore quarterback Weston Amos led the Yellow Jackets in rushing with 186 yards and one touchdown. Junior back Caleb Bowman rushed for 110 yards and four scores, and sophomore Ethen Drake added 99 rushing yards and a touchdown.

"Our young men never gave up," Clinton Coach Chris Dufrene said. "They always played hard. I'm so proud of them. Our whole offensive line [performed well]. We had 384 total yards rushing."

Clinton broke a school record by getting its 12th win last week. The Yellow Jackets want to make more history this week on the road at Junction City in the 3A quarterfinals.

"We have to avoid little penalties that kill drives," Dufrene said. "We have to keep them off balance when we're on offense and be good tacklers on defense."
Mayflower (11-0) defeated Smackover at home last week, 53-46. The Eagles play host to Rivercrest this week in the 3A quarterfinals.
2A

Conway Christian (11-1) took care of Mountainburg at home, 38-26, behind strong performances on both sides of the ball.

"We did a good job of stopping their run game for the most part and not allowing them to sustain long drives and eat clock," Conway Christian Coach Justin Kramer said. "Then our offense, led by Jacob Wood and Luke Gates, did a great job of taking advantage of what they were giving us and getting points."

The Eagles hit the road for the first time in this playoff season as they head to Mount Ida for a 2A semifinal matchup.

"We currently have the best win/loss ratio that we have ever had here," Kramer said. "It says a lot about the guys on our team and our assistant coaches (Andrew Roberson, Daniel Ellen and Hayden Thornton) who do a great job getting our players ready week in and week out. I am very proud of all of them."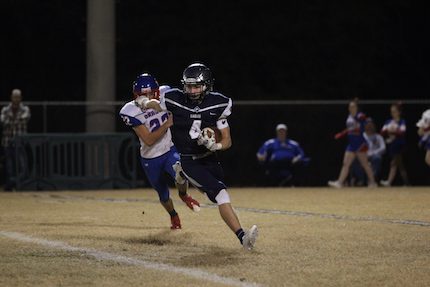 The full slate of playoff matchups containing 501 teams*:

7A semifinals

BRYANT at Bentonville
CONWAY at NORTH LITTLE ROCK

6A semifinals

SEARCY at Pine Bluff

5A semifinals

MCCLELLAN at Wynne
PULASKI ACADEMY at Nettleton

4A quarterfinals

Gosnell at ROBINSON

3A quarterfinals

CLINTON at Junction City
Rivercrest at MAYFLOWER

2A quarterfinals

CONWAY CHRISTIAN at Mount Ida

*501 teams listed in bold and all caps.