15 Nov 2017

501 Football playoffs Week 2 preview

Eighteen teams from the 501 survived the first week of the playoffs, and the dream of finishing the season at War Memorial continues.


7A


The Conway Wampus Cats (8-3) dominated Rogers in the first round, 41-14, even without the 7A's leading rusher, Michael George, who was dressed for the game but was held to the sideline due to injury. Senior Brennan Clark and junior Cary McClain carried the load for the Wampus Cat rushing attack in relief. Both backs finished with 85 rushing yards.


"I think it says a lot about the depth of this team that Brennan and Cary were both able to step in and perform at a high level against Rogers," said Jeff Matthews, play-by-play announcer for Conway Corporation's Channel 5 Sports. "The offensive line did what they have done all season long — great run blocking and fantastic pass protection. Andrew [Hreha] had plenty of time to throw the ball, and that helped open up things. All in all, a solid performance by the team on the field and the coaching staff. I thought [offensive coordinator] Coach Raney called a great game to make up for missing Michael."


The Wampus Cats scored 28 points in the first quarter alone, and the defense held Rogers to just six points in the first half.

"Our guys were able to jump out to an early lead and kind of control the game through the second half," Conway Coach Clint Ashcraft said. "I thought we kept Rogers pinned deep in their own territory, which gave us good field position most of the night. Our kickoff team did an outstanding job in coverage; there was only one kick return brought out past the 20-yard line."


Hreha threw three of his four touchdowns in the first half, and backup quarterback Jovani Johnson both caught and threw a touchdown, as the Wampus Cats found a new way to get the junior on the field.


"Jovoni proved how versatile and valuable he is to this team on Friday night," Matthews said. "We had a feeling we might see more packages with him at quarterback, even imagined he would take Michael George's spot in the Rhino package, but to start at wide receiver for the first time in his career, catch a touchdown pass and throw a touchdown pass? He is a dangerous weapon, and Coach Ashcraft will have some fun finding ways to get him on the field."


Conway travels to Bentonville West in the 7A quarterfinals 7 p.m. Thursday.


"Offensively we need to establish good drives that lead to points and keep their offense on the sidelines," Ashcraft said. "Their offense is very explosive and has had a ton of chunk plays and long scoring plays. We need to keep them in front of us and make them earn everything."


The game is being held Thursday because both Bentonville schools host playoff games this week and currently share the same field.


"It doesn't happen very often that we play a team that we have no history with, but that's the case with Bentonville West," Matthews said. "This will be the first meeting between the two schools, and from every indication, they are doing things at a high level quickly there. Offensively, we need a full complement of weapons. If we have everyone healthy, I like our chances to control the clock by running the ball and occasionally playing vertically when it's there.


"Defensively, we will have to find a way to slow down Jadon Jackson. He has almost 1,200 receiving yards this season and has found the end zone nine out of 10 weeks. Plus, we need to put pressure on their quarterback Will Jarrett. He has thrown at least two touchdown passes in each game and has 28 on the season against only three interceptions."


Cabot (6-5) travels to Bentonville this week after taking care of Springdale at home last week. North Little Rock (10-0) and Bryant (9-1) come off byes to host Fort Smith Northside and Fayetteville, respectively.


6A


The Searcy Lions (9-2) received several big performances in their 35-22 win last week over Lake Hamilton. Senior defensive back Bobby Graham pulled in two interceptions, senior running back Gabe Chapman rushed for 170 yards and senior receiver Eli Nevels hauled in more than 100 receiving yards and two touchdowns. The Lions head to El Dorado this week.


"Our defense began to play more aggressive after Lake Hamilton's second drive of the night," Searcy Coach Mark Kelley said. "After that drive, we only gave up one score. Offensively we have to be able to beat one-on-one match-ups through the air and try to be consistent against a very good El Dorado defensive front. On defense, we have to stop the run and hopefully make them have to throw the ball."


Benton (7-4) was dominant in a 42-0 win over Jacksonville in the first round. Zak Wallace carried the ball 13 times for 86 yards and two touchdowns and pulled in four receptions for 59 yards. Gavin Wells was 13-of-19 passing for 195 yards and one touchdown and rushed for a score, too. Beau Brewer rushed for 50 yards and a score, and DJ Stirgus pulled in four receptions for 71 yards and a touchdown. Kyvin Carroll led a stifling Panther defense with two sacks.


"We came into the game pretty focused and ready to play," Benton Coach Brad Harris said. "I felt like we controlled the game from the opening kick until the end of the game. Our guys played well early, and we jumped out to a big lead of 35-0 at half time. We then returned the opening kickoff of the second half. We played our younger guys the entire second half.


"Beau Belcher, Josh George and Jenson White — all three had great nights on the offensive line for us, opening holes and protecting our quarterback and helping our offense gain almost 400 yards in the first half."


The Panthers travel to West Memphis on Friday.


"West Memphis is 9-1 on the year and are a really tough team," Harris said. "They are very athletic on both sides of the football. We are going to have to establish the run game on offense and be able to limit their big play capability on defense."


5A


Two 5A West teams survived the opening round of the playoffs — Morrilton and Greenbrier. Morrilton (8-3) upended Watson Chapel on the road, 41-20.


"We turned the ball over on the 12, and it looked like Watson Chapel would score," Morrilton Coach Cody McNabb said. "Simeon Lee intercepted a pass and returned it to the 30, and we went on to score that drive."


Morrilton quarterback Jacolby Criswell rushed for 160 yards and passed for 175. The Devil Dogs head to Wynne next. "Wynne is a great team," McNabb said. "We have to protect the football and create some turnovers."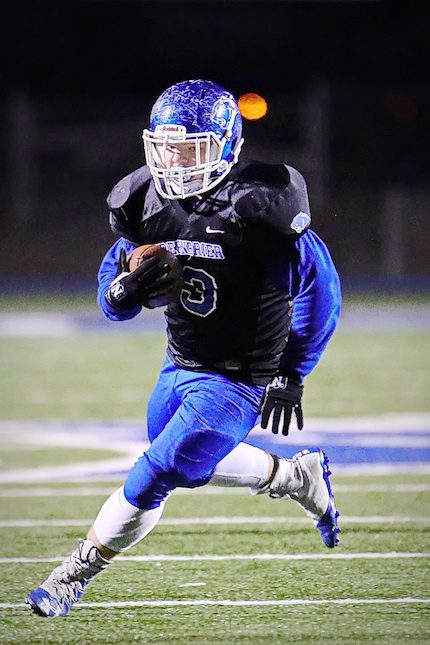 Greenbrier (7-4) took care of Camden Fairview at home, 23-6. Ryan Bernard blocked a punt, and Seth Howard and Reese Hammontree had interceptions.

"Seth Howard intercepted a pass in the fourth quarter inside our 10-yard line to make it clear there would not be a comeback," Greenbrier Coach Randy Tribble said. "There were a lot of good performances in round one, but the total defense really played outstanding."

Up next for the Panthers — travelling to Nettleton.

"Our defense has really come together this second half of the season," said Grant Brown, a senior receiver/defensive back for Greenbrier. "I believe it will be the difference in a win or loss."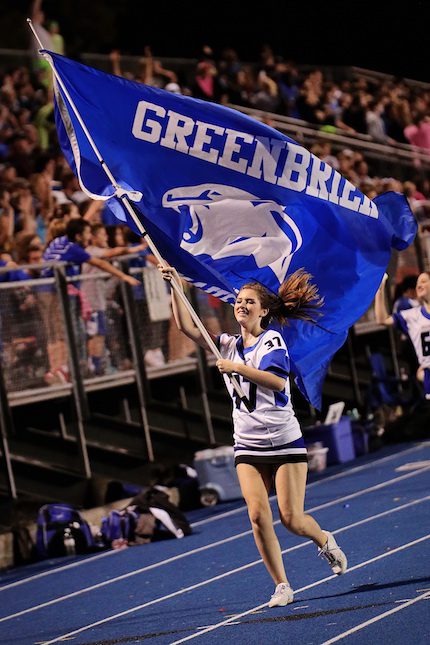 4A

Heber Springs (8-3) won a road thriller at Gravette, 49-46, in the first round. It featured a wild performance from 501 Football Team honoree Jacob Bremmon, who returned three kickoffs back for a touchdown.

"I have never seen anyone return three touchdowns in the same game," Heber Springs Coach Darren Gowan said. "Plus he intercepted the final pass in the end zone to preserve the win."

Blaze Nelson had two rushing touchdowns and 118 yards on 21 carries. Defensive End Chris Hart intercepted a pass and returned it for a touchdown. The Panthers travel to Gosnell, the top seed out of the 3-4A, this week.

"Gonsell is a very good, athletic team," Gowan said. "We are going to have to slow down the run and eliminate big plays. We must tackle. On offense, we need to be able to possess the ball to keep our defense fresh. We will have to score touchdowns in the red zone and take care of the football. If we tackle, control the time of possession and win the turnover battle, we will have a good chance of advancing to the quarters."

3A

Harding Academy (7-4) had its offense come alive in the first round, defeating Centerpoint at home, 49-21. Davis Morgan went 18-for-22 with five passing touchdowns in the first half.

"Our offense was just really on point," said Dalton Koch, a senior receiver/safety for the Wildcats. "Davis threw the ball really well, and our offensive line protected really well. We scored almost every time we got the ball, and our defense just shut them down. They only scored off of two big plays.

"We completed a ton of passes. We had multiple receivers get a touchdown, and we just drove down the field every time we got the ball."

"This was the healthiest we've been since the second series of Week 4," Harding Academy Coach Neil Evans said. "We finally had all our playmakers on the field at the same time."

The Wildcats look to keep the offense rolling on the road at No. 1 seed Junction City.

"Offensively, we must throw it to our playmakers in space," Evans said. "Defensively, we must tackle as well or better than we have all year."

Two 501 Football Team members face off this week — Clinton's Charlie Sowell and Haskell Harmony Grove's Hunter Hilson.

Haskell Harmony Grove (8-3) beat Hoxie on the road, 26-20.

"Jake Brooks blocked the PAT after Hoxie tied the score at 20," Harmony Grove Coach Paul Calley said. "Hunter Hilson then led us on a game winning drive."

Brooks and Hilson had 15 and 14 tackles, respectively. Sean Small had a touchdown reception on the go-ahead drive and a caused fumble on Hoxie's final drive to preserve the victory.

"We jumped out to an early lead, and we just rode the momentum to victory," Hilson said. "The offensive line really controlled the line of scrimmage, and they were a big reason we had success."

Clinton (11-0), the top seed out of the 1-3A, took care of Fouke at home, 55-20. Weston Amos rushed 11 times for 109 yards and two touchdowns. Ethan Drake carried the ball seven times for 101 yards and two scores. Sowell rushed for 67 yards and a score.

"The second half we made several adjustments that helped us stop Fouke's running game," Clinton Coach Chris Dufrene said.

When Clinton and Haskell Harmony Grove face each other, it will be a battle of opposing offensive philosophies.

"Offensively, we will always just take what the defense gives us," Hilson said. "On the defensive side, it is important to stop the run. If we can stop their run game, we feel like we have a good chance."

"Our next opponent is more of a pass-based team," Sowell said. "We will have to adjust our defense from last week's match-up. Offensively, we just have to keep playing hard and hitting our assignments. If we do these things, we should end up on top."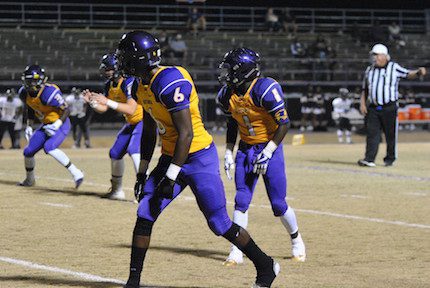 Mayflower (10-0) plays host to Smackover after earning a first-round bye. Mayflower Coach Todd Langrell attributes the undefeated regular season to senior leadership, the team buying in to high standards on and off the field and having clear offensive and defensive identities. And having the leading rusher in the state, Deon Simmons (170 carries for 1,969 yards and 37 touchdowns), helps, too.

"Our focus during the bye week was to get two good days of practice," Langrell said. "The bye week was earned for the year that we played, so we used it to be fresh this week. We are not going to change what we do, but make adjustments when the time comes. I think this is another attribute to our success. We have an identity both offensively and defensively, and our players know what their role is."

2A

The last two remaining 501 playoff teams in 2A are both from the 5-2A conference — Magnet Cove and Conway Christian.

Magnet Cove (7-4) took care of Hackett, 43-6. Landon Stone intercepted a pass and ran it back 53 yards for a touchdown to put the Panthers up 15-0 on the second defensive drive of the game.

"That play really lifted us and deflated Hackett," Magnet Cove Coach Caleb Carmikle said. "We had control the rest of the night. Our offensive line had their best game of the year. They dominated from start to finish. Fullback Tim Spiva had some big runs and threw a few big key blocks for us, too."

This week, the Panthers travel to Hazen, the top seed out of 6-2A.

"This week presents a whole new challenge," Carmikle said. "Hazen has a talented football team. They are very young and seem to get better and better each week. They are very physical on both sides of the ball and have the best group of linebackers we have seen all year.

"Offensively, we have to take care of the football and stay ahead of the sticks. We can't have any negative plays or drive-killing penalties. We will also have to be more efficient in the passing game than we have all year to keep them from putting 10 in the box.

"Defensively, they play the smoke and mirrors game with all the formations they give, but rely heavily on the run. We have to make sure we are lined up correctly and control the line of scrimmage up front. We have to keep them bottled up in front of us and can't allow the big play. If we can force them to drive the field all night, I like our chances. No doubt this game will be decided up front on both sides of the ball."

Conway Christian (10-1) defeated Cross County, 53-14, in the first round, and will play host to Mountainburg Friday.
The full slate of playoff matchups containing 501 teams* can be found below:

7A quarterfinals

CABOT at Bentonville
Fayetteville at BRYANT
Ft. Smith Northside at NORTH LITTLE ROCK
CONWAY at Bentonville West

6A quarterfinals

SEARCY at El Dorado
BENTON at West Memphis

5A quarterfinals

Harrison at PULASKI ACADEMY
GREENBRIER at Nettleton
MCCLELLAN at Alma
MORRILTON at Wynne

4A

Dardanelle at ROBINSON
HEBER SPRINGS at Gosnell

3A

HARDING ACADEMY at Junction City
HASKELL HARMONY GROVE at CLINTON
Smackover at MAYFLOWER

2A

MAGNET COVE at Hazen
Mountainburg at CONWAY CHRISTIAN

*501 teams listed in bold and all caps.