By Brenda McClain
More than 3 billion cookbooks were sold in 2008. Martha Stewart, Paula Deen and Ina Garten account for a good number of those cookbooks, and publishers vie on a daily basis for rights to these significant tomes.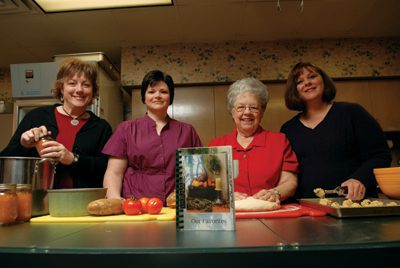 Martha Stewart cookbooks – great though they are – can't begin to hold the value of the cookbooks produced by churches in and around the 501.
"Food is our common ground, a universal experience." – James Beard
Harlan Park Baptist Church in Conway published a cookbook that promptly sold out. Perusing the cookbook, albeit borrowed, one understands why. It's easy to read with helpful hints and many tried and true recipes.
Conway's Robinson and Center Church of Christ published its second cookbook; both sold out quickly. Church member Cindy Ledbetter uses hers on a daily basis. It's a book full of memories for Cindy of her great friend, Rita Fougerousse. The tour-de-force behind this cookbook's more than 250 pages of recipes, Rita died of cancer in July 2007. The recipes in this book are the "gravy." Every page turned "holds a memory of Rita," says Cindy. "I think of her every day," she says, as she unconsciously hugs the cookbook to her heart.
It's the memory of this beautiful woman that allows this book to permeate the very fiber of church history. Sharing more than the 501 area code, just across the freeway, in Mabelvale, Judy Morris has completed her church's second cookbook.
Judy compiled "Our Favorite Recipes Volume II," the same cookbook Bobbie Stewart is opening in her home in Romance. Bobbie and Judy chat regularly, yet it's the cookbook that holds many of Bobbie's most precious memories of her former church home, Mabelvale Church of Christ. Judy's mother-in-law, Charlie Dee Morris, and their mutual friend Anita Griffin are in heaven now, their memories savored with these recipes exchanged at church gatherings. Bobbie is in her own kitchen – all white, gorgeous, it's shining – as she prepares Anita's "Killer Brownies." It's evident Anita's recipe fills Bobbie's memory bank with warmth for her friend.
Church cookbooks provide a great history, a legacy that intertwines faith, food and family. Church published cookbooks are rich in history, richer in love.
Our Favorite Recipes – Volume II
Mabelvale Church of Christ's Judy Morris has created a cookbook with recipes that are easy to follow, from trusted cooks. A cute twist: Bible class students created the artwork for the book divisions. All-in-all this is a great cookbook from a thriving congregation. Publisher: Horton & Horton, it sells for $5. Call the Mabelvale church at 501.455.2547. Be sure to ask for Linda Minor. She might share some additional recipes from the latest church potluck!

Charlie Dee Morris' Potato Salad
8 medium-sized red potatoes, boiled and pared
6 eggs, boiled and peeled
2 teaspoons sweet pickle relish, drained well
1 small jar diced pimento, drained well
1 very small onion, grated or chopped fine
Salt and pepper to taste
Hellmann's mayonnaise (enough to moisten the mixture)
2 or 3 tablespoons Durkee Sauce
2 or 3 strips bacon, cooked and crumbled
Remove potatoes from pan, cool and cut into chunks. Grate the boiled eggs and mix with potatoes. Add relish, pimento, onion, salt and pepper. Stir. Add mayonnaise until mixture is thoroughly moist. Then add the Durkee Sauce. Add bacon just before serving. Makes 10 servings.
Anita Griffin's Killer Brownies
14 oz. light caramels (50 pieces)
2/3 cup evaporated milk (divided)
1 German chocolate cake mix
¾ cup butter or margarine
1 cup chopped pecans
1 cup semi-sweet chocolate chips (6 oz.)
In saucepan, combine caramels and 1/3 cup evaporated milk. Cook over low heat, stirring constantly until caramels are melted. Set aside. Grease and flour a 9X13 inch pan. In large bowl, combine by hand the cake mix, butter, 1/3 cup evaporated milk and nuts, stirring until dough holds together. Press half of the dough into prepared pan. Reserve remaining dough for topping. Bake at 350 degrees for 10 to 12 minutes. Sprinkle chocolate chips over baked crust. Spread caramel mixture over chocolate chips. Crumble reserved dough over all. Return to oven and bake 18 to 20 minutes. Cool slightly. Refrigerate about 30 minutes to set caramel layer. Cut into bars.
Favorite Recipes – A Collection by First Baptist Church of Vilonia
Compiled by Paula Campbell, this cookbook is very well presented and includes church history, devotionals, helpful hints, 157 pages of recipes and a cooking minipedia. Published by Morris Press, cost is $6. Call 501.796.2103 to purchase.
One helpful hint we particularly loved: Dissolve old-fashioned lemon drops or hard mint candy into tea. They melt quickly and keep the tea clean and brisk. Who among us doesn't love great sweet tea?
Verna Weavers' Sweet and Sour Carrots
2 pounds carrots peeled, sliced thin
1 tbsp. prepared mustard
1 can tomato soup
1 cup sugar
¼ cup cooking oil
¾ cup vinegar
¾ cup chopped celery
1 medium onion, chopped
1 green pepper (or more if desired)
Cook carrots until just tender in salted water then drained. Add the rest of the ingredients. Bring this mixture to a boil. Pour over drained carrots. Refrigerate for 24 hours or longer.
Conway Christian Junior/Senior High School Cookbook
Students and faculty members peer out the front cover of this no nonsense cookbook. Straight-forward, it is easy to read with many of the 150 pages holding more than one recipe. A great gift at $10 and it's for education – always a good cause.
Recipes come from parents, students, teachers, faculty and friends.
Former Gov. Mike Huckabee offers up seasoning tips in addition to his recipe for Jambalaya.
Huckabee's Hot and Happy Cajun Jambalaya
1 lb. smoked sausage (use link smoked sausage, like Bryan's, Hillshire, etc.)
1 bundle of fresh green onions
1 cup chopped bell pepper
2 cloves fresh garlic
1 lb. ground meat
2 cups rice
1 ½ cups fresh cooked black-eyed peas
Chopped parsley
Tabasco sauce (optional)
Brown the sausage, drain the fat and save the drippings. Sauté onions, bell pepper and garlic in the drippings. Remove onion mixture from pan; brown ground meat. Cook the rice according to the directions. (For best results use rice grown in Arkansas).
Mix all ingredients into large pot or kettle. Add black-eyed peas, parsley and seasonings.
The Jambalaya is good when freshly made but actually is better several hours (or even a day) after it is cooked when all ingredients have "merged" into a wonderful and filling feast.