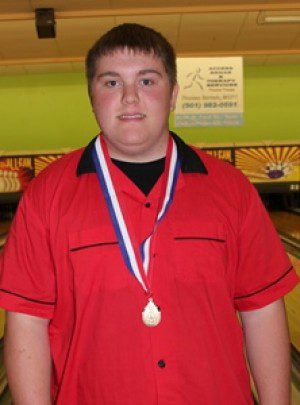 18 May 2016

501 boasts state's best bowlers

The Arkansas Activities Association recently announced the selections for the Wendy's Bowling High School Players of the Year Awards for the 2015-2016 school year.

Greenbrier senior Taylor Bradway and Cabot junior Cole Stillman were named as the Players of the Year.
This is the third year for the Wendy's Player of the Year Awards. A total of 23 athletes will be selected from the sports of golf, tennis, volleyball, cross country, dance, cheer, football, swimming, wrestling, bowling, basketball, softball, baseball, soccer and track. Each winner will be recognized at the Wendy's Day of Champions luncheon at the Holiday Inn Presidential Hotel in Downtown Little Rock on Wednesday, June 1.
Coaches and school administrators are eligible to make nominations for these awards throughout the school year.
Bradway was a member of three consecutive state championship teams. She finished first in this year's state competition with a three game total (235, 220, 215) of 670. She is a three-time All-State and All-Conference bowler. She maintained a 190-to-210 average during her high school career. She also carries a 4.0 grade point average.
Bradway has been bowling for eight years and has been a member of the high school team for the last four. She enjoys most the camaraderie among her teammates. "The thing I love about the high school team is how close we are. We are all kind of best friends."
At Drury, Bradway is considering the medical or business field.
Bradway was pleased with the inclusion of bowling in the statewide recognition. "It's a great feeling to be recognized," she said. "Usually small sports don't get much recognition."
Stillman led the way as Cabot captured its fifth consecutive state championship, being a major contributor in the last two titles. He finished first in the 7A-6A state tournament with a game total of (194, 269, 246) of 709. He was an All-State and All-Conference selection.
Stillman carried a season average score of 198 during his junior season.
Wendy's Player of the Year Selections
Girls Golf

Casey Ott, Conway

Janet Taylor
Boys Golf

Will Gibson, Jonesboro

Bryan Jenkins
Girls Tennis

Tatum Rice, HS Lakeside

Shawny Green
Boys Tennis

Stuart Riser, LR Christian

Barry McCaskill
Volleyball

Reagan Robinson, Shiloh Christian

Nathan Bodenstein
Girls Cross Country

Elise Reina, Springdale Har-Ber

Tommy Sugg
Boys Cross Country

T.J. Sugg, Springdale Har-Ber

Joe Crommett
Dance

Victoria Nall, Jonesboro

Caroline Crawford
Football

Leonard Snell, Nashville

Mike Volarvich
Cheer

Ryleigh Feemster, Parkers Chapel

Tiffany Graven
Girls Bowling

Taylor Bradway, Greenbrier

Sandy White
Boys Bowling

Cole Stillman, Cabot

Clark Bing