22 Dec 2021

501 Basketball Team announced for 2021-22

501 LIFE is proud to present the 501 Basketball Team for 2021-22. The team boasts 40 honorees representing the best student-athletes the 501 has to offer, both on and off the court.

Players were nominated by their coaches and selected by the 501 staff. The nominations were weighted equally between on-the-court and off-the-court attributes. Sponsors for this year's team are Velda Luders of Coldwell Banker RPM Group, Moix Equipment and Toy Compmany, Conway Regional Health System and First Security Bank.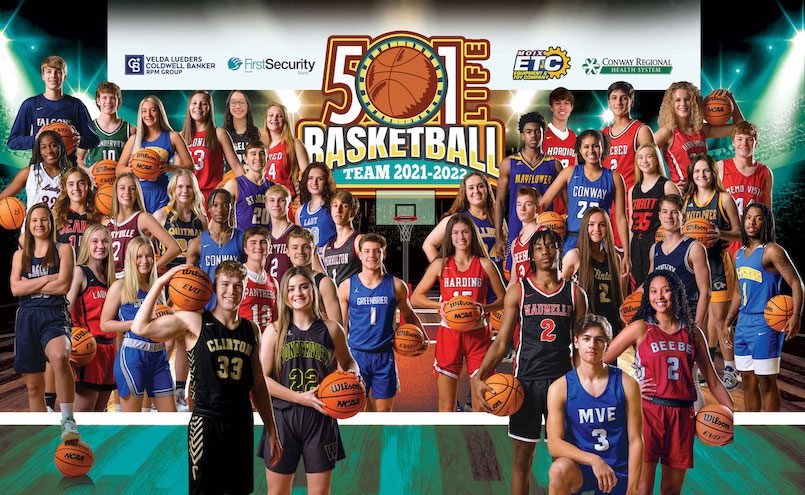 The 2021-22 team members include:
Alexa Booher (Clinton), Mya Bradley (Beebe), Karley Brown (Mayflower), Amira Calvin (Morrilton), Calle Citty (Harding Academy), Kaitlyn Crafton (Wonderview), Sara Daniel (Searcy), Carl Daughtery Jr. (Maumelle), Ben DeSalvo (Nemo Vista), Cooper Ellis (Conway Christian), Aubrey Evans (Bigelow), Jackson Fox (Harding Academy), Kylie Freeman (Nemo Vista), B.J. Gilliam (Mayflower), Russ Hensley (Clinton), Halen Hoelzeman (Sacred Heart), Jaylea Hooten (Heber Springs), Taylor Jo Hooten (Quitman), Faith Johnson (Cabot), Kalayna King (Conway), Trinity Kussmaul (Guy-Perkins), Dwayne Lockhart (Conway), Rylie Marshall (Beebe), Jacob Mathis (Greenbrier), Maggie Mooney (St. Joseph), Piper Peterson (Mount Vernon-Enola), Joseph Pinion (Morrilton), Luke Pope (St. Joseph), Emma Rehm (Greenbrier), Sam Reynolds (Wonderview), Caleb Ross (Maumelle Charter), Alyssa Rudolph (Perryville), Nic Shue (Quitman), Gavin Smothers (Mount Vernon-Enola), Cade Spinks (Perryville), Jasiah Stubbs (Guy-Perkins), Jake Swindell (Sacred Heart), Zach Thomas (Heber Springs), Madeleine Tipton (Vilonia) and Josie Williams (Conway Christian).
In addition to being announced in the January 501 LIFE, each player will be featured in 501's sports e-newsletter at some point during the season beginning with our Dec. 30 edition. Additionally, a player bio will be published in 501 LIFE Magazine in February and March.