20 Nov 2018

501 Basketball Team announced for 2018-19

When fall's crisp chill is in the air, it can only mean one thing for hardcourt fans — basketball is here! 

With the basketball season upon us, 501 LIFE presents the 2018-19 edition of its 501 Basketball Team. The team boasts 34 honorees, representing some of the best student-athletes the 501 has to offer — both on and off the court.

The 501 Basketball Team is sponsored by Conway Orthopaedics and Sports Medicine Center, Conway Regional Health System and First Security Bank.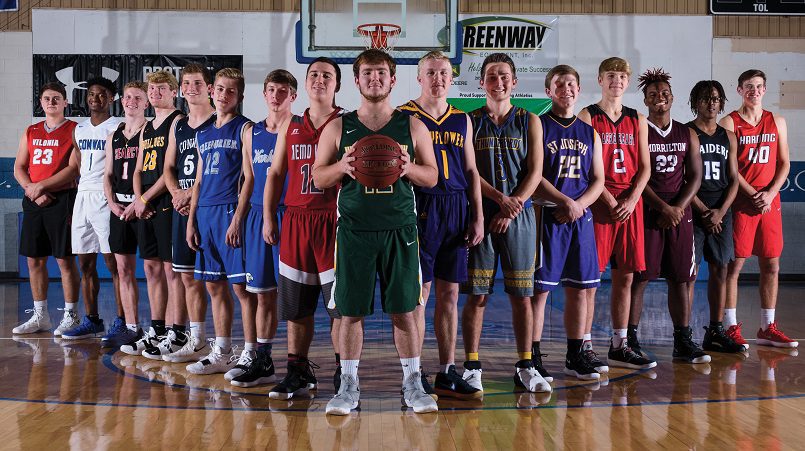 "This year's team will be especially fun to watch," said Levi Gilbert, associate editor. "Several of the players nominated this year were in championship games back in March. Only one of them walked away with a ring. You just know that we're going to see several of the players back in the state tournament again this spring, fighting for a championship for their communities."
Players are nominated by their coaches and selected by the 501 staff, and the nominations are weighted equally between on-the-court and off-the-court attributes.
2018-19 team members include:
McClendon Andrews (Nemo Vista), Jack Briggler (St. Joseph), Quinton Brown (Riverview), Peyton Caldwell (Searcy), Jenna Chadek (Sacred Heart), Isaac Clemmons (Quitman), Abbie Corder (Faulkner County Falcons), Ben Drilling (Sacred Heart), Rachel Dumont (Guy-Perkins), Alaina Ellis (Mount Vernon-Enola), Bailey Francis (Mayflower), Terry Franklin (Morrilton), Alden Graves (Harding Academy), Blysse Harmon (Greenbrier), Nicki Hooten (Quitman), Brady Jerry (Greenbrier), Abbie Jiles (Riverview), Dejah Jimerson (Cabot), Trey Kelley (Vilonia), Paige Kelley (Vilonia), Caleb London (Conway), Alundra McMiller (Maumelle), Jacob Moix (Mount Vernon-Enola), Davis Morgan (Harding Academy), Piper Mullaney (St. Joseph), Jay Nance (Mayflower), Marianna Richey (Beebe), Morgan Smith (Nemo Vista), Asiyha Smith (Conway), Tamia Templeton (Morrilton), McKenna Vaught (Conway Christian), Hunter Williams (Guy-Perkins), Braydon Wilson (Wonderview) and Jacob Wood (Conway Christian).
"These student-athletes care about their communities, schools, classmates and teammates," Gilbert said. "Their impact goes beyond just what happens on the court. It's such an honor for us every year to be able to tell their stories and highlight the difference they are making throughout the 501."
The team recently met at Central Baptist College's gym for a photo shoot. In addition to being featured in 501 LIFE's December issue (team and individual photos), each player will be featured individually throughout the basketball season online at 501lifemag.com and in 501 Sports Extra, 501's weekly sports e-newsletter. (To subscribe, email [email protected] or visit 501lifemag.com.)