02 Dec 2015

501 Basketball Team announced for 2016

501 LIFE is excited to announce the 2016 edition of its 501 Basketball Team. The team has expanded to 35 honorees (a 45 percent increase over last year's team) and includes the best student-athletes the 501 has to offer — both on and off the court. The team is made up of male and female players.


"The 501 Basketball Team continues to grow, and the vision has spread into some new communities and schools this year," said Levi Gilbert, associate editor. "It's exciting. We have players from Guy-Perkins, Riverview, Beebe, Maumelle and Heber Springs for the first time. The concept of the team is all about highlighting the student-athletes in the 501 who are giving back to their communities as well as their teams. It's great to see it expand even further."


2016 team members include: Rachel Allgood (Cabot), Jacie Andrews (Nemo Vista), Josh Ballard (Guy-Perkins), Sarah Beth Briggler (St. Joseph), Hadley Brown (Mayflower), Nikki Brown (Guy-Perkins), Justin Brown (Nemo Vista), Landon Bruich (St. Joseph), Lyndi Dather (Conway Christian), Ally Davis (Harding Academy), J.W. Estes (Mayflower), Alex Francis (Harding Academy), MJ Griffin (Wonderview), Aaron Griffin (Faulkner County Falcons), Joeli Harvey (Faulkner County Falcons), Jakob Henry (Conway Christian), Abby Hightower (Vilonia), Raegan Jones (Wonderview), Arabriaun Mack (Searcy), Stephen Maus (Sacred Heart), Taylor McGraw (Beebe), Simon Medley (Searcy), Austin Moore (Beebe), Prentice Mullins (Conway), J.T. Smith (Riverview), Hunter Southerland (Cabot), Madeline Spanel (Heber Springs), Kamri Summons (Maumelle), Charlie Thomas (Vilonia), Alexis Tolefree (Conway), Mariah Trezvant (Morrilton), Taylor Usery (Sacred Heart), Tyler Williams (Greenbrier), De'Shawn Williams (Maumelle) and Chavé Zackery (Morrilton).


Players were nominated by their respective coaches and selected by the 501 LIFE staff. Nominations were weighted equally between on- and off-the-court attributes.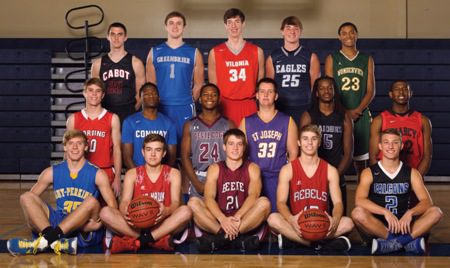 The team recently met at Conway Christian's gym for a photo shoot.

In addition to being featured in 501 LIFE's January issue, each player will be featured individually throughout the winter online at 501lifemag.com and in 501 Sports Extra, 501's sports e-newsletter. (To subscribe, email [email protected] or visit 501lifemag.com.)

"We can't wait to share these talented students' stories with our readers," Gilbert said. "A big thank-you goes out to all the coaches who took the time to recognize their players. We are excited to see how each of their stories unfolds this season."