05 May

3rd Annual Kyle Allison Golf Classic largest to date

On April 26, Renewal Ranch hosted the 3rd Annual Kyle Allison Golf Classic at Centennial Valley Country Club. Players came from Texas, Oklahoma, and all over Arkansas to honor the memory of Kyle Allison and support the ministry efforts. With 30 teams signed up to play, this was the ministry's largest golf tournament to date.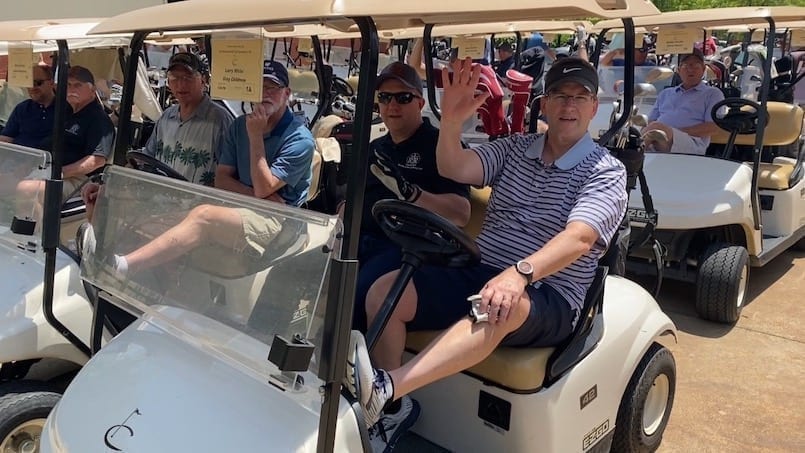 The Renewal Ranch Golf Classic was renamed in 2019 in memory of Kyle Allison. "Kyle went to be with his Savior in July of 2018 after touching many lives with his story," John-Austen Linch said. The son of the late Walter and Debbie Allison, he was a lifelong resident of Conway and was a graduate of Conway High School and the University of Central Arkansas. Kyle was devoted to the staff and men at the Ranch.
"His greatest love was for his Lord and Savior, which he was quick to share with others," Linch said. "Kyle was easy to love and had made a personal investment in so many people. The Renewal Ranch Golf Classic was his favorite event."
The tournament was made possible with sponsorships from: The J. Hawks Charitable Foundation, Francis M. Fine Jewelry, First Security Bank, Centennial Bank, Bledsoe Chiropractic, and many other local businesses. "Thank you to all the teams who came together to honor Kyle Allison and support Renewal Ranch," Linch said. "Kyle's family and friends would like to leave you with this charge: Finish what he started."