21 Aug 2023

37th Annual UCA Community Development Institute concludes

Posted at 6:53 PMh

in

News

CONWAY – A diverse group of over 180 community leaders from the Mid-South participated in the 37th annual Community Development Institute (CDI) at the University of Central Arkansas. The five-day training session, held July 31 through Aug. 4, concluded with a special graduation and awards ceremony.
Grants and Programs Manager at MEMS Kelly Hunt Lyon received the Bill Miller Award as recognition for her leadership and support of CDI. The Bill Miller Community Development Award recognizes an individual who has had a significant, positive impact on UCA's Community Development Institute. Lyon is a former director of the UCA Center for Community and Economic Development and the CDI. During her tenure at UCA, she secured $120,000 in grant funding to support CDI and grew the program significantly. The program is successful today, in part, because of her efforts.
Main Street Arkansas was honored with the Friend of the Community Development Award, offered each year to an individual or organization that demonstrates strong support for community development and CDI. Main Street Arkansas works to strengthen and preserve historic downtowns and Main Street districts across the state. It provides technical assistance, resources, and ongoing education to local programs to help them implement and excel in the Main Street Four-Point ApproachTM, creating a vivid and vital sense of place. Main Street Arkansas has been a long-standing partner and supporter of the Community Development Institute.
CDI Director Shelby Fiegel said, "Both Kelly and Main Street Arkansas have had an immensely positive impact on our work at the Community Development Institute, from both a personal and organizational perspective. Kelly built a foundation for success during her time at UCA that snowballed this year into one of the largest contingents of community leaders we have ever hosted at CDI. Main Street Arkansas has served as a long-standing partner of CDI and our team at UCA. We are thankful to have a strong connection to Kelly and Main Street Arkansas."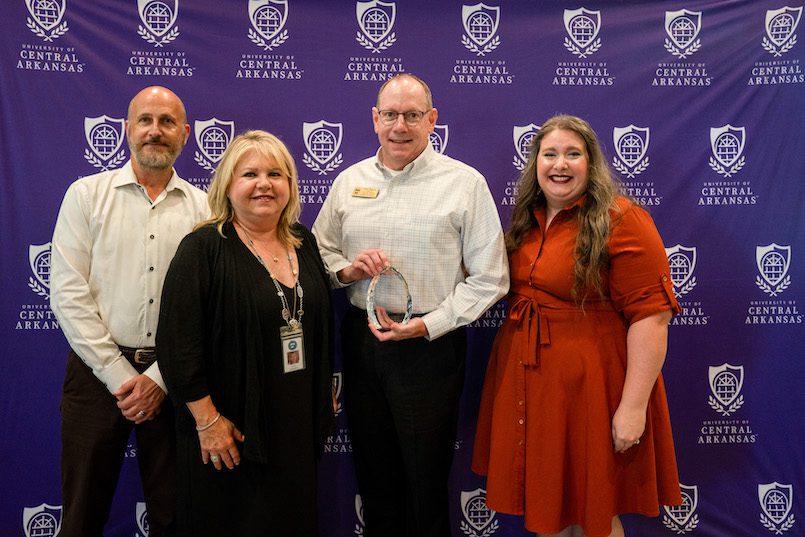 The CDI 2023 graduating class chose Mayor Tomeka Butler of the city of Eudora as the Ernest Whitelaw Award recipient. The Ernest Whitelaw Award recognizes an individual for exemplifying the following points: dedication to professional community development practice; proven involvement in the CDI educational experience, demonstrated by enthusiastic individual and group class participation, willingness to assume leadership roles and regular class attendance; a spirit of caring and inclusion shown by a willingness to assist, enable and involve fellow students in the CDI experience; and strong personal integrity.
Michael Rosenburg of Western Arkansas Planning and Development District was chosen by his cohort as the Year 2 Champion. Two Year 1 Class Champions were chosen by their peers: Philip Powell of Arkansas Farm Bureau Federation and Alaina Ramsey Bradshaw of the Charleston Chamber of Commerce and Economic Development.
Forty-two leaders from across Arkansas, Alabama, Maryland, Mississippi, Missouri and Louisiana graduated from CDI (list attached).
In addition to the graduation and awards ceremony, the week's activities featured Joyvin Benton as the CDI 2023 keynote speaker. Participants also participated in several simulations, case studies and leadership development activities. A group of CDI graduates called the CDI Advanced Year also worked directly with the City of Murfreesboro to assist the community in their future community and economic development efforts.