31 Dec 2021

2021 Women in Business recipients named

The Sissy's Log Cabin Women in Business Awards was held Dec. 14 at Reynolds Performance Hall. The Conway Chamber of Commerce event marked 10 years of honoring individuals who have excelled in leadership and community service. There were five recipients of the Outstanding Women in Business Award; one individual received the Outstanding Woman in Nonprofit Award, which is presented to those who work within the fields of nonprofit, education, or government; and the Diamond Achievement Award recognized a woman with at least 25 years of professional experience who has inspired and empowered many generations of women.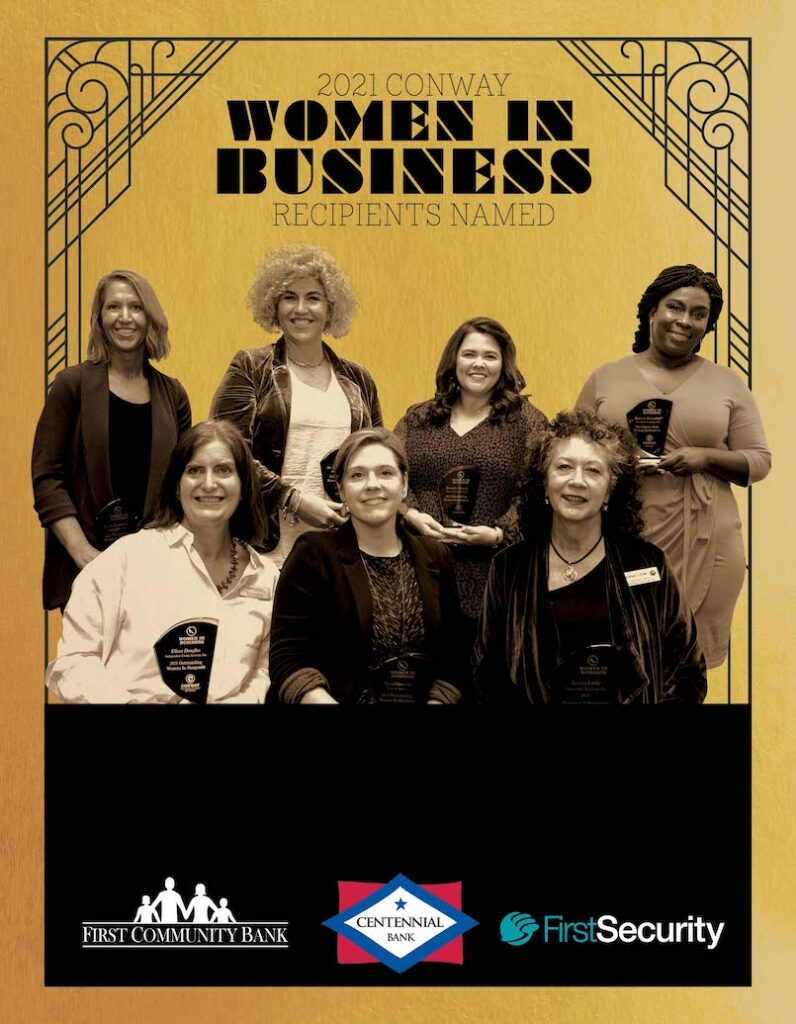 The guest speaker was Natalie Stute, Chief Human Resources Officer at Gainwell Technologies. The awards were presented by representatives of the companies that sponsored the awards: Acxiom and First Community Bank.
Diamond Achievement Award: Teresa Little 
As the Executive Director of an organization that strives to empower children and adults with developmental delays or disabilities, Teresa has remained adaptable throughout years of changing policies and regulations. Facing the unexpected challenge of a global pandemic, Teresa acted as an advocate for her employees as much as her clients, working to ensure they continued receiving compensation and support despite the office temporarily closing its doors. With a heart for the nonprofit sector, she has devoted countless hours to the work of Milestones Services, as well as the Community Action Program of Central Arkansas, the Faulkner County Leadership Institute Alumni Board, and the statewide Developmental Disabilities Provider Association. As Teresa prepares for her retirement at the end of this year, she will be concluding a nonprofit career spanning 38 years, with the vast majority of time spent at the organization that holds a special place in her heart.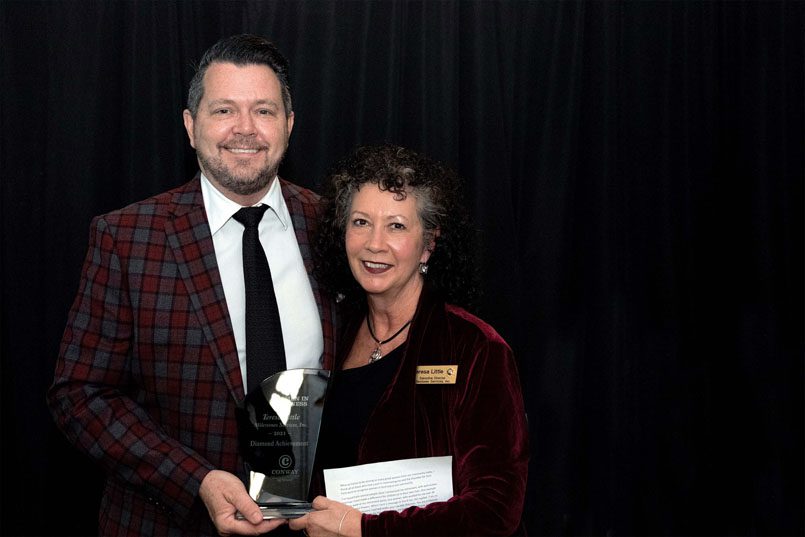 501 LIFE asked Teresa what this award meant to her:
"All of the attention has been so overwhelming and so much appreciated at the same time. As I am retiring, the Diamond Achievement Award was a big surprise and big cherry on top of my career.
Working at Milestones (formerly Faulkner County Day School) for the last 38 years has given me rewards of its own watching children grow and develop. Sharing in the heartaches and joys of hundreds of families through the years has been my work and my mission. To be given an award to say, 'yes, you made a difference' in our community. And that difference wasn't just for children but also in the lives of the many women who have worked for me or along side me, is truly an outstanding honor.
I am fortunate to work in a field that is filled primarily with women. Many of them have come to me broken by so many things, struggling to survive. I have tried to help them when I could with a steady job and some understanding of what they needed at the time. And many of them who came before me or along side of me were my role models that helped to shape my leadership.
All of these words sound empty to me. It is so hard to put into words the love that I feel for all those families and staff members that I have had the pleasure to serve. I certainly didn't do it to be recognized like this … but I am very grateful for all it means."
Recommended Reading: Before We Were Yours, by Lisa Wingate.
Guilty Pleasure: Coke over ice, with Lays potato chips without ridges, and green onion dip.
Favorite Quote: If I can stop one heart from breaking, I shall not live in vain; If I can ease one life the aching, or cool one pain, or help one fainting robin unto his nest again, I shall not live in vain.
Outstanding Woman in Nonprofit: Elissa Douglas, Independent Living Services
As a young girl of 13, Elissa embraced her spirit of volunteerism. Now, with over 30 years of experience in the industry, Elissa leads a team of 400 in their work, serving individuals with developmental disabilities. With a caseload of over 200 residents, the work of Independent Living Services could be seen as strenuous at any point, but the COVID-19 pandemic brought about an unprecedented set of challenges. Elissa's advocacy work, on behalf of the developmental disability population, encouraged her to think creatively on how essential services could continue while maintaining a safe work environment for her team and clients alike. Elissa celebrates the fact that no one living in their group homes has contracted COVID-19 thus far. Outside of work, she is a member of Conway Morning Rotary and has served on the board for Sonshine Academy and the National Provider Government Affairs Committee.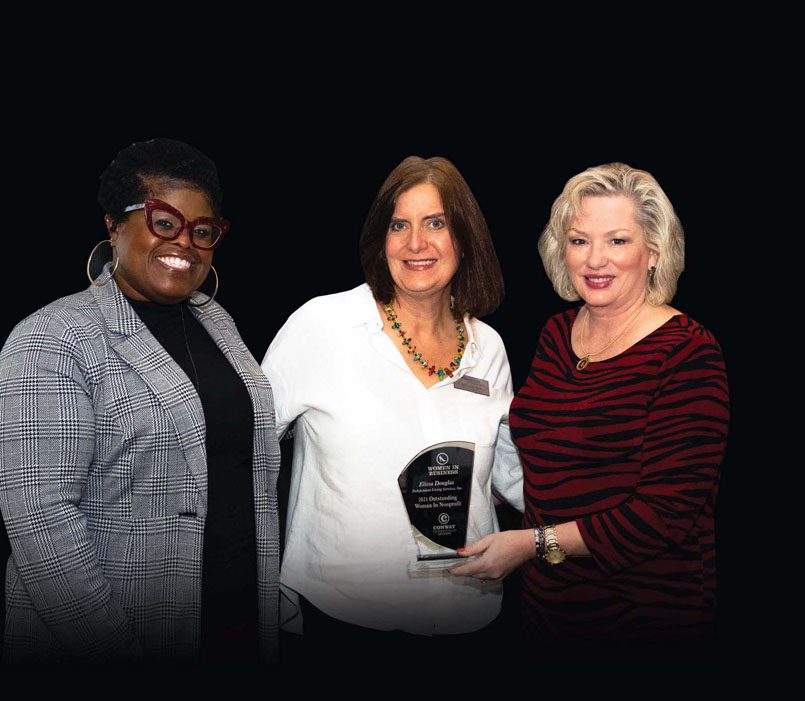 501 LIFE asked Elisa what this award meant to her:
"It is an incredible honor to be named Outstanding Woman in Nonprofit. I am joining a group of fantastic women who I admire. I am very thankful to all the women who have mentored me throughout my career. I feel very blessed to be a part of Independent Living Services for the past twenty years and serve our consumers and their families. I love being part of Conway where my husband and I have raised our daughter, Lily." 
Outstanding Woman in Business: Dr. Amanda Bledsoe, Bledsoe Chiropractic
For more than 15 years, Dr. Amanda Bledsoe has provided her community with quality chiropractic care, opportunities for professional development, and unending support for the variety of causes represented throughout Conway. After working as an associate for other local clinics for 11 years, Dr. Bledsoe opened the doors of her first clinic in 2017. Since then, she has employed more than 50 employees, and she has expanded Bledsoe Chiropractic from 2,500 to 7,800 square feet. Always giving back to the community that has supported her, Bledsoe's clinic has kept an active presence at numerous civic events, providing free adjustments and massages to attendees. Outside of the office, Deliver Hope, Community Connections, and Harbor Home are just a few of the organizations she supports.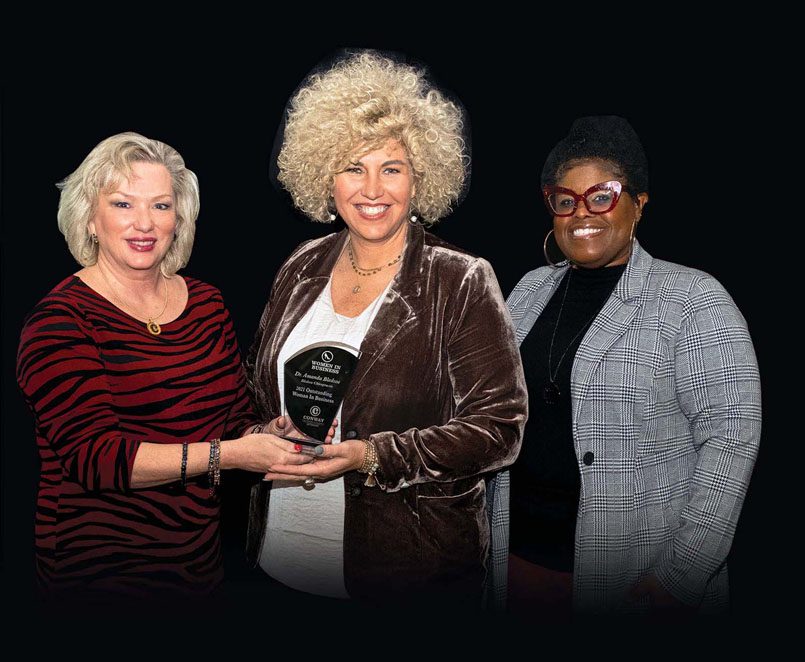 501 LIFE asked Amanda what this award meant to her:
"It means so much to be recognized by the community I love so much. It especially means a lot as a woman! Conway is an amazing place to own and run a business as a woman!" 
Outstanding Woman in Business: Carla Brockman, Rogers Group, Inc.
Whether she's working at her desk, or on-site at a rock quarry, Carla is recognized as a well-respected and encouraging leader in an industry that has been predominantly male. Over the past 10 years, she has worked to streamline processes in her office which has empowered staff to work more effectively and independently. To her team, she is a dedicated colleague and sounding board; to her daughters, she is a steadfast figure who can successfully juggle priorities and achieve success, while working in an industry she loves. The giving of her time has been a priority of Carla's as she's devoted countless hours volunteering for Children's Advocacy Alliance, The Chase Race, Bethlehem House, and her church.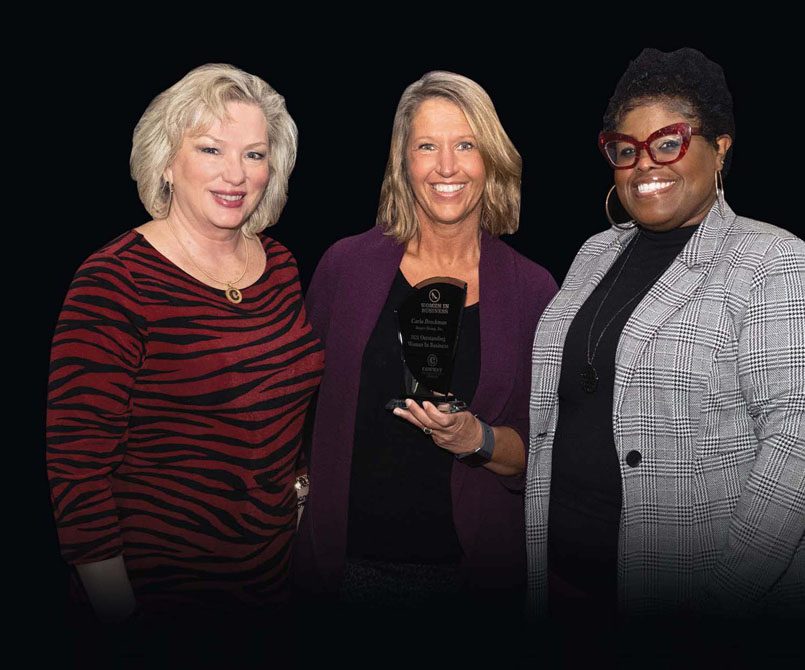 501 LIFE asked Carla what this award meant to her:
"First and foremost, I would say that I do not consider myself an 'Outstanding Woman in Business.' I get to work in an industry I love with a great team, which makes it easy to be successful. I am humbled by the nomination and selection. I do commend the chamber for recognizing Women in Business in our area. There are many great women who live and work in Conway who offer so much to the community, making it a better place to live & work."
Outstanding Woman in Business: Karil Greeson, Bank of America
Karil embodies the essence of an outstanding woman in business. Through her work at Bank of America, she created the Power of Ten group within Arkansas branches where 10 emerging women leaders in their market meet monthly to help drive success and encourage each other. With years of dedication to programs like these, Karil has been recognized with the Presidential Service Award by Bank of America for the past 10 years. In her free time, she has devoted countless hours to community service organizations, Faulkner County Circle of Friends, and The Call. She is recognized not only as a dependable volunteer, but someone who leads by example, opening her heart and home to children she has fostered and adopted.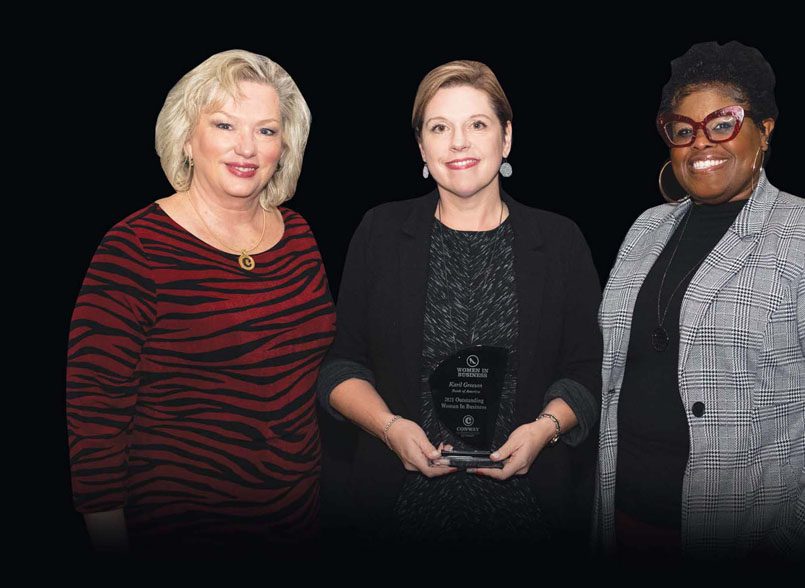 501 LIFE asked Karil what this award meant to her:
"It means a lot to me that the chamber recognizes the important contributions women make in Conway. Furthermore, to be recognized is both humbling and an honor. Women have so many demands on them every single day. Some days I feel like I'm failing at everything, and I don't feel very outstanding. So to have all my hard work recognized, is truly an honor." 
Outstanding Woman in Nonprofit: Jennifer Mouser, Salter Inc.
In a male-dominated industry, Jennifer has earned a role on the executive team of a 45-year-old construction business after just 6 years with the company. Always an advocate for her colleagues, she prides herself on creating an education program for employees, and cultivating an environment that fosters professional growth and advancement. Through the Women's Leadership Network, Jennifer has mentored countless students and young professionals. Embracing a style of transformational leadership, she pushes herself and her team to question if there's a more effective way to complete projects and tasks, ultimately avoiding the "this is how we've always done it" trap we often find ourselves in. Jennifer has served on the boards for Blackbird Collective and the Creative Institute of Central Arkansas.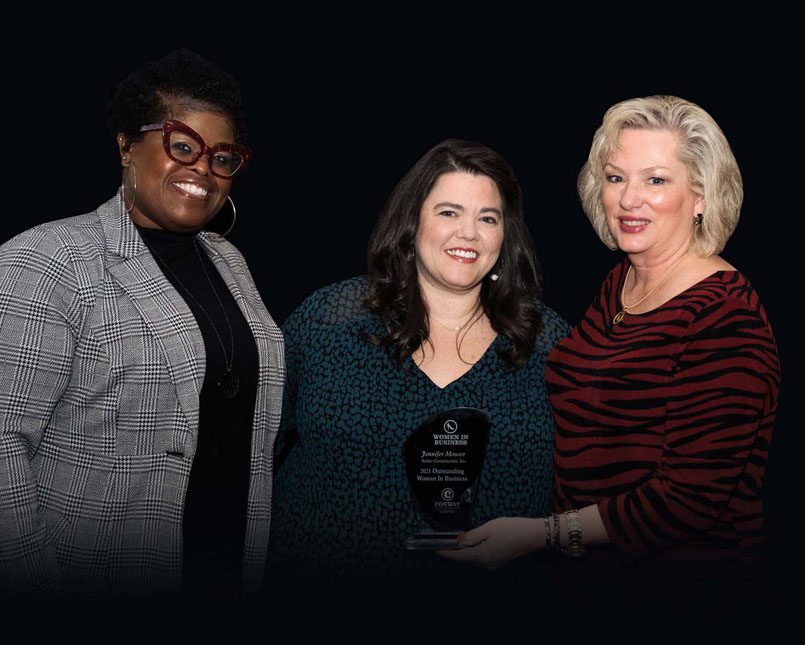 501 LIFE asked Jennifer what this award meant to her:
"When I heard that I was being honored as one of the Outstanding Women in Business, I was blown away, honored, and so joyful that people could see my heart through my actions. Getting to be recognized for doing what I love is an honor in itself, but getting to carry on the legacy of amazing business women in my family really meant something special to me. My grandmother was a southern gem who was in the floral and gift business when I was growing up. My mom also went into the same business, and both of them have taught me so much about what it means to give REAL customer service, work hard, and always treat the people around you with the utmost love and care."
Outstanding Woman in Business: Teneicia Roundtree, TreeHouse Cleaning LLC
As a working mom of 4, Teneicia is driven by an entrepreneurial spirit that has been passed down through generations in her family. A relatively new entry to Conway's business community, TreeHouse Cleaning has grown from a humble beginning with only $20, into a reputable and recognizable brand in the cleaning industry. Teneicia takes pride in the growth of her company, and she works to share lessons learned and encouragement with women involved in organizations such as the Women's Leadership Network and the Women's Foundation of Arkansas. In an effort to give back to the community that helped build her business, she has had the opportunity to not only mentor young women, but provide them with employment.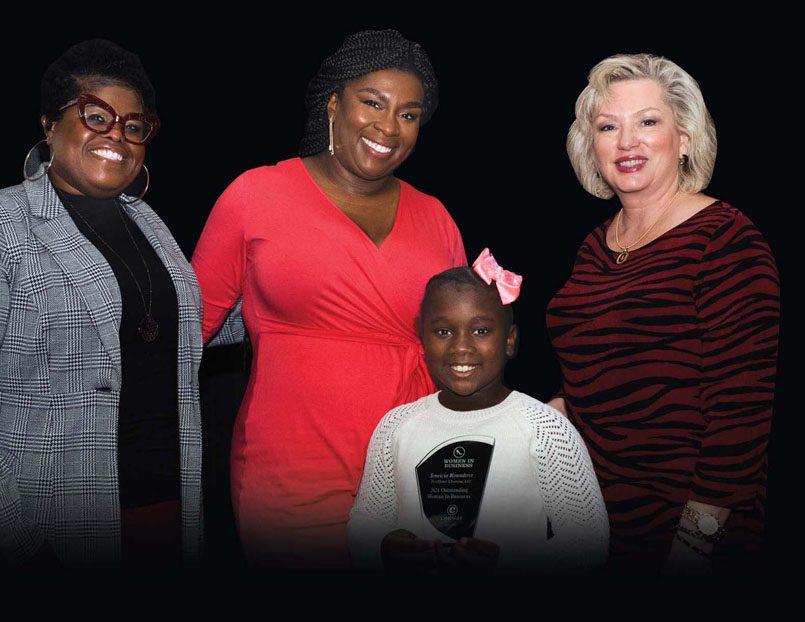 501 LIFE asked Tenecia what this award meant to her:
"To be chosen for this tremendous award is humbling. As I learned of the names of previous and current recipients, many of whom I admired for some time, I feel honored to be called amongst them."