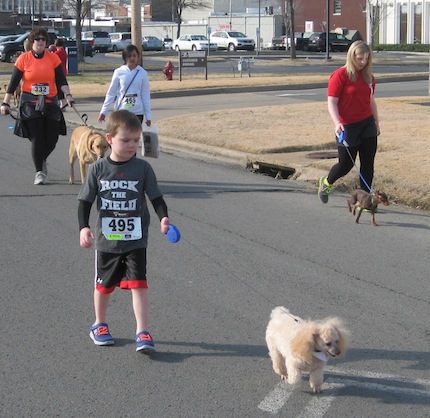 27 Mar 2013

2013 Chase Race most successful

Organizers are describing this year's Chase Race as the most successful, with records set in both attendance and money raised.


"This was the eighth year for the Chase Race & Paws to commemorate my son, Chase, and it was also the most successful," said organizer Don Potter.

The Chase Race consists of three events – a 2M state championship race, a 1M leashed dog race/walk and a pet costume contest.


"The Chase Race moved downtown this year and started and finished at Simon Park," Potter said. "Thank you City of Conway. The new location permitted us to have loop courses in lieu of having out and back courses where faster/ slower participants had to merge with each other and that became a challenge at times."


This year's event attracted 629 participants and raised more than $16,000 from 60 sponsors. "Both of these were a record when compared to the previous seven years," Potter said.


Wojciel Kopec of Searcy was the overall winner of the 2M, running in 9:41, a 4:51 mile pace. "Not only did he win $100 for breaking the Chase Race record, he also broke the Arkansas state record for that distance."


Jennifer Harpel, an excellent local Conway runner, won the female division with an unbelievable time of 11:53 (5:57 pace).
The 1M leashed dog race was won by Bror Thirion in a time of 4:52. The female winner of the 1M was Kelly King with a time of 6:21.

Participants and their families were treated to hot dogs, Zaza's pizza and Chick-fil-A chicken biscuits, various cold drinks, fruit, bagels and pastries from local businesses.

"The pet costume contest was unbelievably fun, cute and entertaining," Potter said. "We had celebrity judges (Police Chief A.J. Gary, Donna Clawson, Judge H.G. Foster and Fran Scroggins).

"Due to the great success of the event and the personal nature of the race, I was just overcome with happiness and somewhat in disbelief that so many people continue to support and help a small distance race to grow."

Proceeds from the race are divided equally between Arkansas Children's Hospital for brain trauma research and Friends of Conway Animal Shelter.

"The first seven years of the race, we were able to give $70,000 back to these agencies," Potter said. "In addition to supporting these agencies, the Conway Animal Shelter was able to adopt four dogs to deserving homes at the event. What can you say? It is a never ending story that continues to gain more momentum every year."

In addition, the race sponsored the Theodore Jones Track Club this year with a complimentary entry form. "There were 24 members of the club that showed up on race day and all received a race shirt and seven of the 8- to 10-year-olds received an age group trophy for their athletic talent," Potter said. "It is another way that the Chase Race says that we want Conway to know that we are here and we do care about our community.

"It gives so much to us and we want to give back too. Hopefully we can do this again next year, even a bigger way."

The next Chase Race is planned Saturday, March 8, 2014.