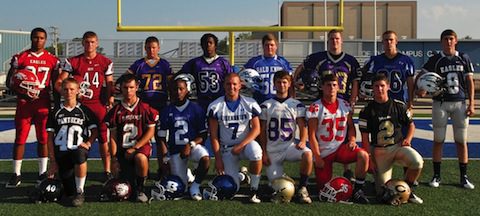 04 Jan 2012

2011 marks launch of 501 Sports Extra, naming of inaugural 501 Football Team

For 501 LIFE, 2011 marked the launching of 501 Sports Extra and the inaugural class of the 501 Football team.


In early October, 501 LIFE produced its second online publication – 501 Sports Extra. In May, the magazine launched an e-newsletter titled 501 LIFE Extra.
"The interest and support for 501 LIFE Extra has been incredible so it was only natural that we would expand our online offerings to include a sports e-newsletter," said editor and publisher Sonja J. Keith. "Our online products give us an opportunity to provide more sports-related content as well as timely information."

The inaugural 501 Football Team was featured on the 2011 edition of the magazine's football publication.

This team represents a goal that's been three years in the making. "Since our first edition of 501 Football in 2008, we've wanted to select a team made up of players from every county in the 501, and this year everything fell into place."

But this isn't just any team. While it does contain some all-conference selections, this is no all-star team. It's much deeper than that.

These players represent a wealth of talent on the field – 14 of them were on playoff teams last fall, and five played on conference championship teams – but it's not just the on-the-field talent that makes these individuals stand out. It's also their contributions in the classroom and their communities that make them special.
Players were nominated by their respective coaches and selected by the 501 Football staff.

Plans are already in the works for the 2012 class of the 501 Football Team.