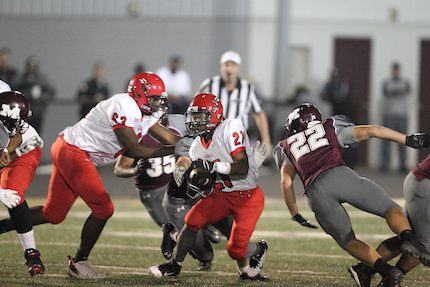 19 Nov 2014

16 area teams move ahead in the playoffs

by Levi Gilbert


It's the time of year when every game could be the last. And it's absolutely brutal.


Thirty-five teams from the 501 entered the playoffs last week. Only 16 made it to this Friday.

In the 7A quarterfinals, Conway will play host to Fayetteville, Bryant travels to defending champions Bentonville and North Little Rock will host Fort Smith Northside.


In the 6A quarterfinals, the only two 501 teams left will face off in Benton as the Panthers host Little Rock Parkview.


In the 5A quarterfinals, playoff perennial Pulaski Academy will host Camden Fairview, the Greenbrier Panthers will travel to Batesville, the Maumelle Hornets take on Wynne at home and Beebe and Hot Springs will match up in the Spa City.


In the second round of the 4A playoffs, all three 501 teams will be on the road: Malvern at Pea Ridge, Clinton at Dollarway and Heber Springs at Warren.


In the second round of the 3A playoffs, two of the three teams from the 501 will battle each other — 2-3A foes Harding Academy and Mayflower — in Searcy. And Episcopal Collegiate will play host to Mountain View.


And only two 501 teams remain in the 2A playoffs and both are from the 5-2A — top seed Conway Christian and Magnet Cove. Conway Christian will play host to Des Arc, and Magnet Cove travels to Earle.


It will be another amazing week of football in the 501, but it's sure to be as heart wrenching, too. The number keeps dwindling, but those that remain keep their eyes on the ultimate prize.